DIY-ing things for your wedding can be tough. So today I'm going to share something super simple and super gorgeous with you that you can easily DIY peachies. Perhaps one of the easiest DIY wedding details ever! For reals.
The lovely Stephanie from Make and Tell, my new favourite blog about all things DIY joins me today to share how to make your own beautifully painted flower cones! The perfect little bit of detail to add to your wedding day florals or even to use as petal cones. Enjoy peachies!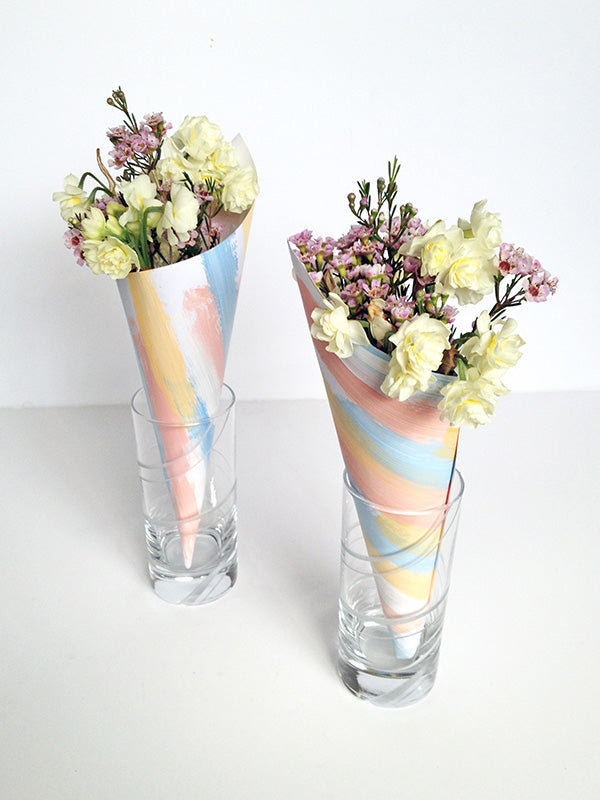 There are so many things to gawk over at weddings. If it isn't the gorgeous dresses, it's the scrumptious cakes or the romantic music or the beautiful table settings. Yep, I guess where weddings are concerned I pretty much love all the things. But I have a soft spot for florals, so if I get the chance to play with bunches of blooms, I'll most certainly be jumping at that opportunity!
Which is exactly how this project came about. It's my twist on the traditional flower cone, using my fave method of decorating at the moment – the humble brush stroke. If you also love to play with flowers or you're after a nice way to dress up your wedding blooms, simply follow along below!
Materials
Good quality, mid-weight, white A4 paper (around 150-180gsm)
Paint (choose your favourite colours or ones that match your wedding decor)
A wide, flat paintbrush
Double-sided tape
Flowers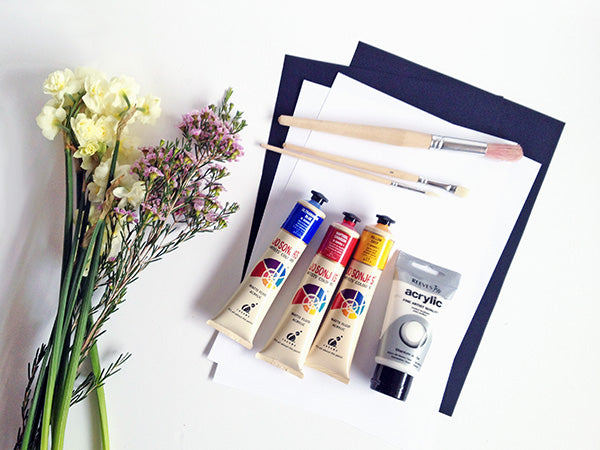 Step 1
Get your paint out and start painting stripes horizontally across your sheets of paper. You don't have to paint each stripe all the way across – in fact, it's better if you stagger the stripes to give your cones a bit of an arty, messy look.
I found it easiest to paint all the stripes of one colour first before washing my brush and starting with the next colour, but each person paints differently, so don't be afraid to experiment to find a method that suits you best!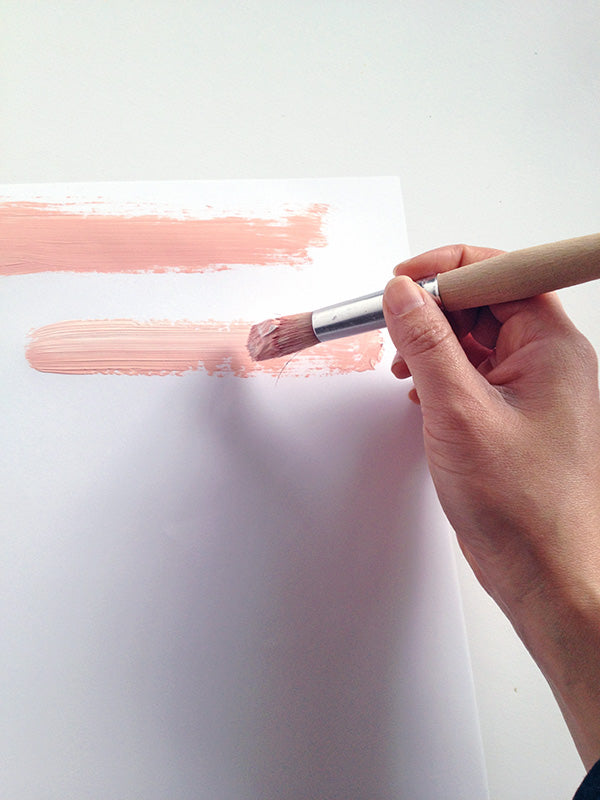 Try not to overload your brush too much as you paint – the less paint you have on your brush, the more you'll see that brush stroke effect.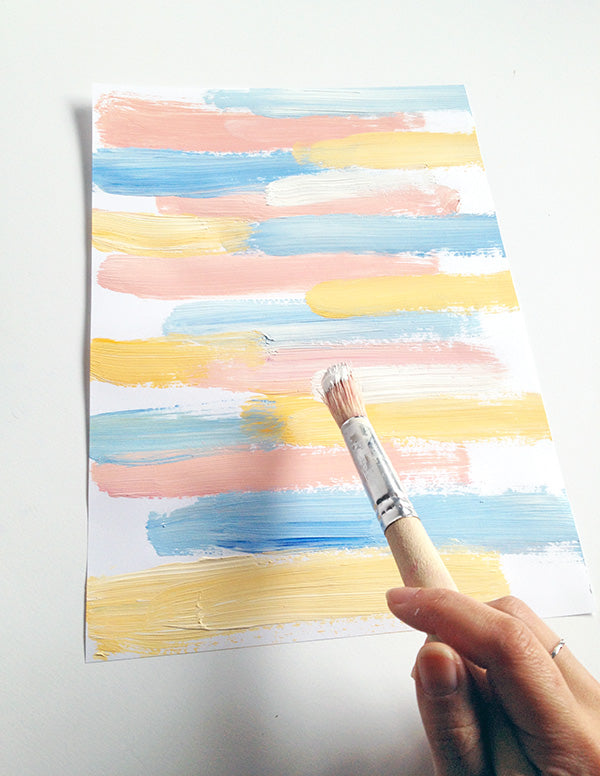 Step 2
Once your paint has dried, cut the A4 sheet into a square. You can actually do this at the beginning before you start painting, but I didn't realise squares would work best for making cones until after I'd finished painting. Oops!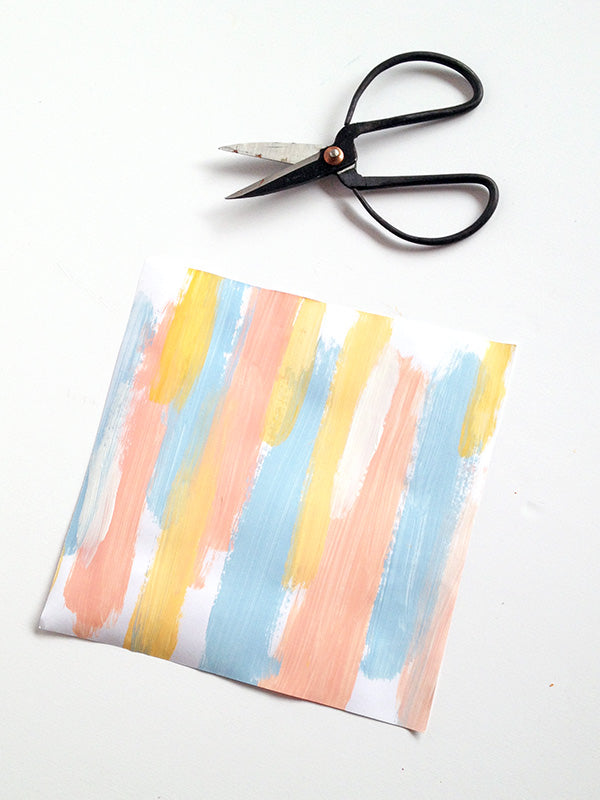 Step 3
Flip over your painted piece of paper and place some double-sided tape (or glue if you prefer) along one side.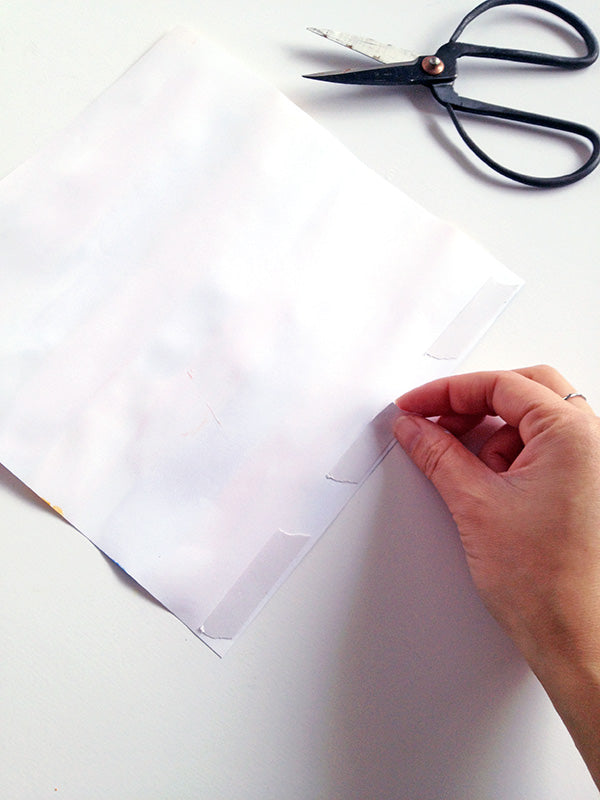 Step 4
Once your tape is applied, bring two opposite corners of your square sheet together so they meet in the middle, then overlap them slightly until they form a cone shape. Your double-sided tape should be on the side of the paper that's on top once you've made this overlap.
When you've got your cone shaped as you'd like it, simply remove the backing from the double-sided tape and press down so your cone stays in shape.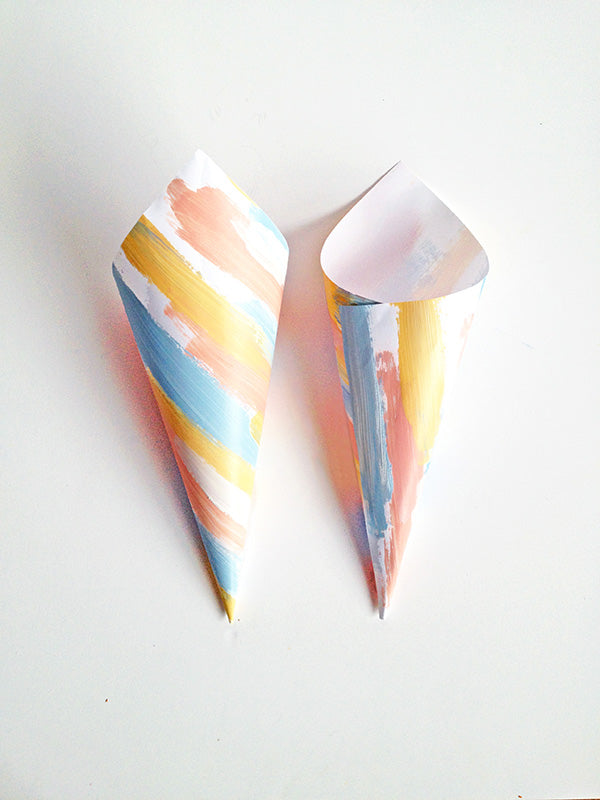 And now we're at the fun part – filling your cones! Get together an assortment of flowers that match the colours of your painted cones and the rest of your wedding florals. Then simply pop the flowers into the cones and you're good to go!
One handy tip to remember – make sure the stems of your flowers aren't too wet when you pop them in the cones. After all the cones are only paper and they'll get soggy if exposed to too much water.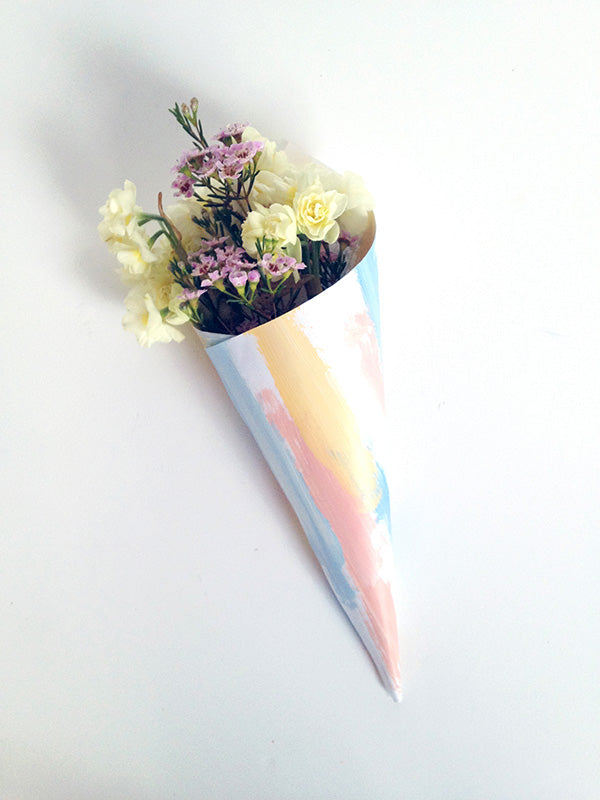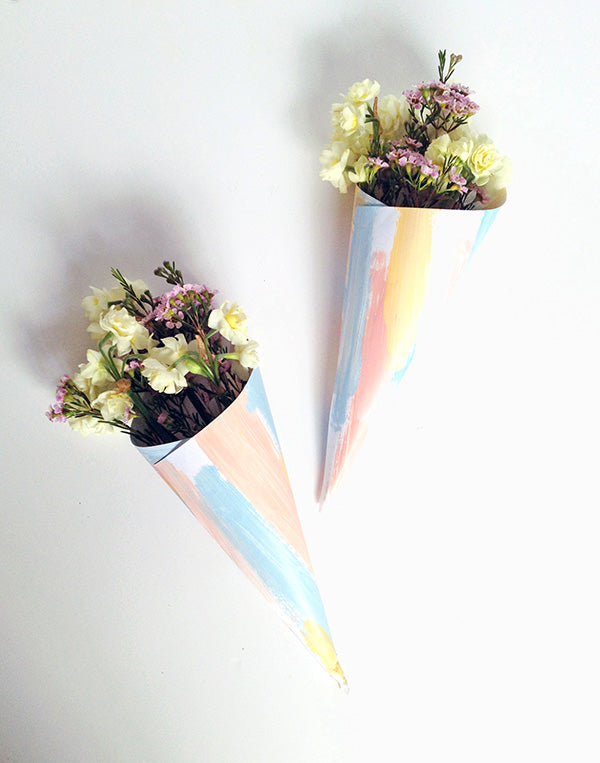 There you go, flower cones that are a little bit arty and full of colour for your big day!
But wait, there's more - this is one wedding project that your kids (or nieces and nephews) can assist with if you want to give your cones a more personal touch. Have an art day and they can paint patterns onto pieces of paper for you to later make into your flower cones. It'd be very sweet to have your family's art decorating the walls of your venue or on the pews as you walk down the aisle, don't you think?
xx Steph
You might also remember Steph from her lovely stationery brand, Stelloberry Designs. Steph is a regular DIY contributor for Simply Peachy and you can see more of her pretty DIYs right here.